It doesn't take a mighty earthquake to wreak havoc inside a home.  The shaking of even a moderate earthquake can cause objects to tip and fall.
SAFETY is always our first priority when advising you where to start with securing your home.  Unbraced objects have caused more injury and loss of life than any other aspect of an earthquake, including the collapse of buildings.  It's not always the largest objects that are the biggest danger, either. It was a television that took one young life.  We can help you to determine which items pose the greatest hazards and, also, which furnishings don't need to be secured at all. Learn more about our in-home QuakeConsult service.
This is what we want to help you prevent: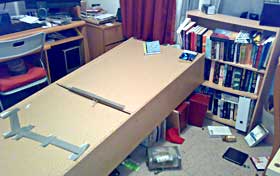 T-I-M-B-E-R !
A couple of straps would have prevented this bookcase from crashing down on the ground. There happened to be a cat bed under this one, fortunately unoccupied at the time.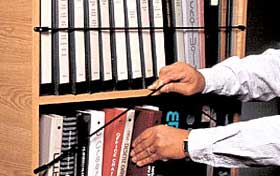 Shelf Restraints
So your books don't get damaged and you have one less mess to clean up, we offer a few types of shelf-restraint. At left, are "Boing" straps. Others do not stretch. One type is hidden from sight until a quake shakes them down.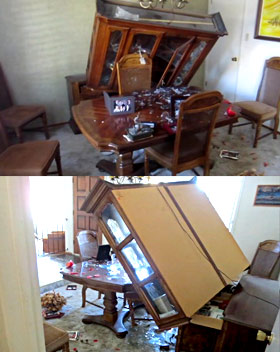 Dining Room Disasters

China hutches are one of the first pieces of furniture to tip over. Doors fly open and everything comes crashing out.

To prevent the tipping, the hutch must first be secured to the buffet. Then, to the wall. Seismic straps need not damage the wood;  screws go only into the wall. These straps can be unfastened easily without uninstalling them.  A seismic latch on each door will prevent them from opening when the shaking starts.

It's Easier Than it Looks to Secure Treasures

Special museum putty can help keep certain items in hutches, and ornaments on shelves and tabletops in place very well. Though well held down, they can also be easily removed with a twist, then replaced.

Ooey Gooey Kitchen Yuk Everywhere.

Broken dishes and glass everywhere, coated in peanut butter, pickles, oatmeal, left overs from dinner, you name it. Ugh. I will bet that after that holy mess was cleaned up, seismic latches were installed on all the cupboard doors.  Luckily you still have time to learn the easy way by, getting them installed now!

Brace Your Television or Lose It

Sadly, the first fatality of Japan's 2011 earthquake was caused by a television. TVs simply have no ability to resist shaking. They will tip over or get thrown unless secured.  A pair of straps designed for TV's will secure it to the wall and they can easily be unfastened as needed.

Double Duty Quake AND Child-Proofing

An earthquake strap or two prevents dressers and highboys from toppling. In the meantime, your little drawer-climbers will be able to do so safely.

Sleep Peacefully Knowing the Bunks are Safe

For the small amount of effort it takes to make sure the bunks remain stable, you will feel so much better knowing it's done.

Do You Have an Aquarium?

Precious fish and coral lost, gallons of water damaging furnishings and flooring, and glass shards everywhere.  No matter how they are situated,  your aquarium can be braced to withstand the earthquake's force.

Perhaps a Family Video Arcade??

Well maybe not, but you may have other favourite items that you'd hate to see ruined. Some things aren't easily replaced. We have bracing solutions for everything, and even if it requires an imaginative custom design, you'll be happy you got it done.